Want to see the Thingsquare system in action but don't have access to a Starter Kit or other Thingsquare-compatible hardware? Then Demo Mode is for you!
---
Run the App – on Your Phone or Right Here
The Thingsquare demo mode runs within the Thingsquare Device Viewer app, which is available for Android and iOS. You can download the app from Google Play or the Apple Appstore below:
But you don't even have to download the app to try it out. You could just use our awesome app demo, directly in your browser, below:
(Yes, that is the actual, live, app that you see above!)
Turn on Demo Mode
After starting the app, tap the Demo Mode button and enable Demo Mode by flipping the demo mode switch.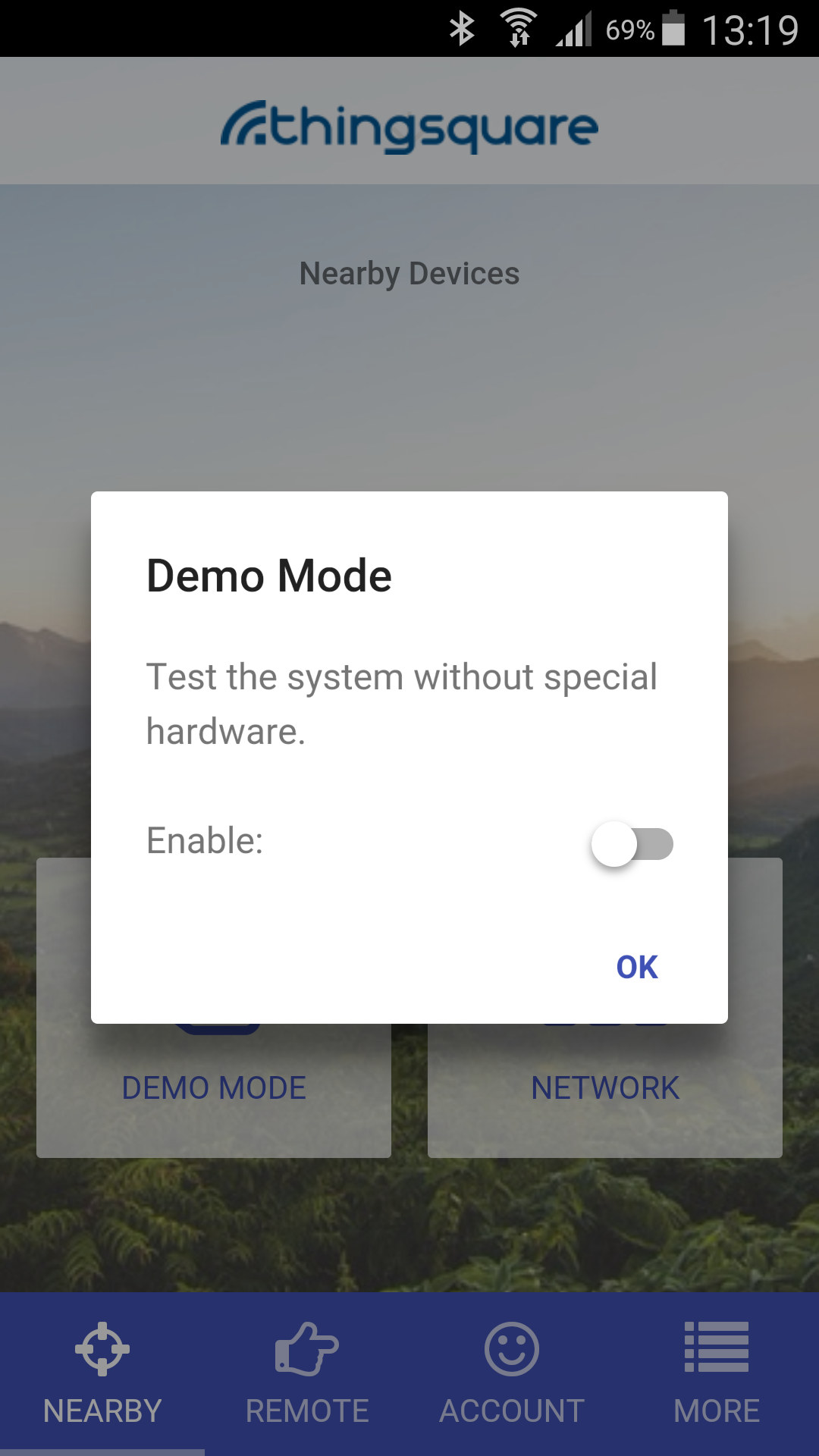 Tap the Demo Mode button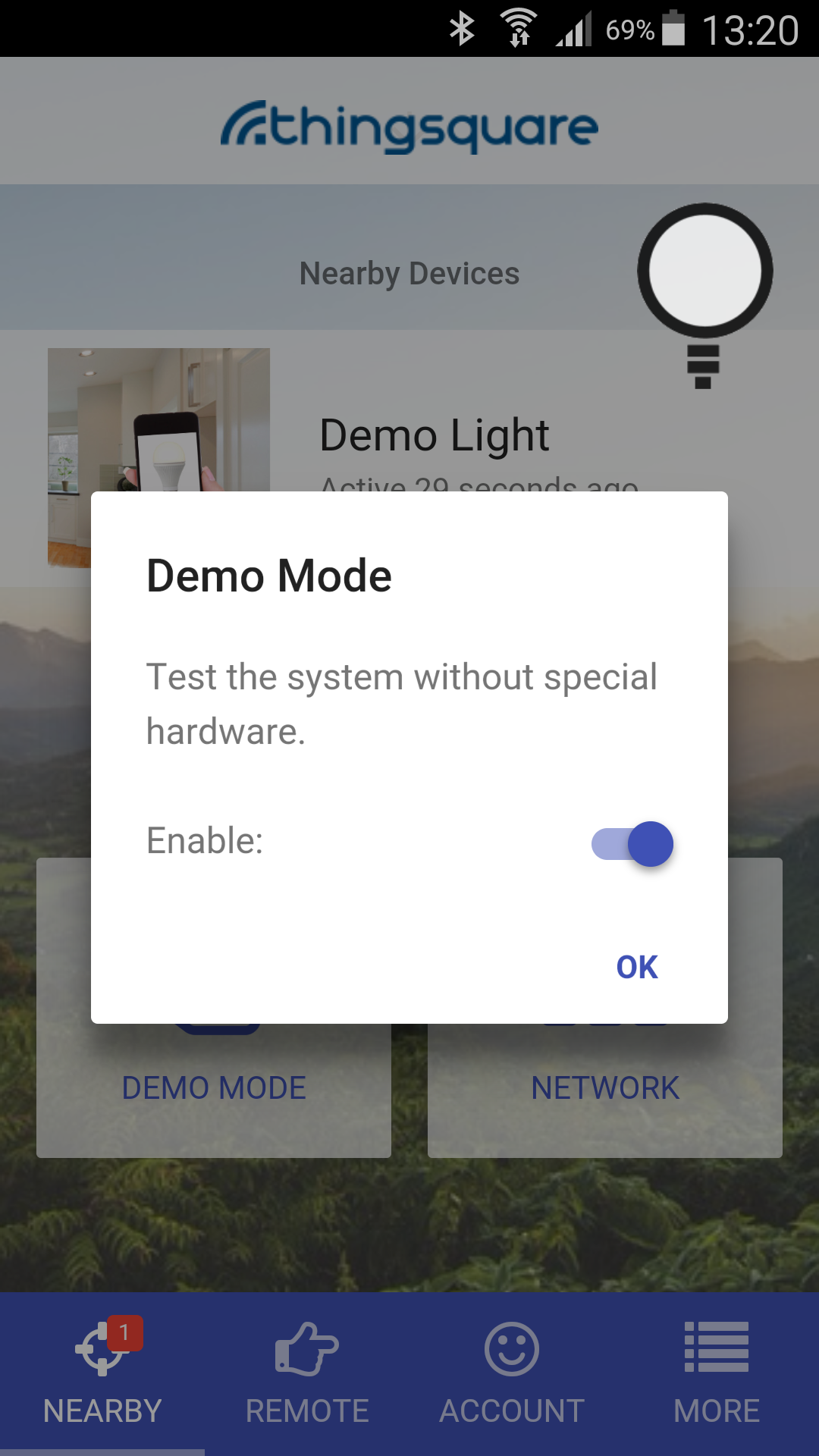 Flip the switch
After flipping the switch, a small light bulb should appear at the top right corner of the screen.
Set the Color
With Demo Mode enabled, a device will appear in the list of nearby devices – a Demo Light device. To set the color of this virtual device, tap its name.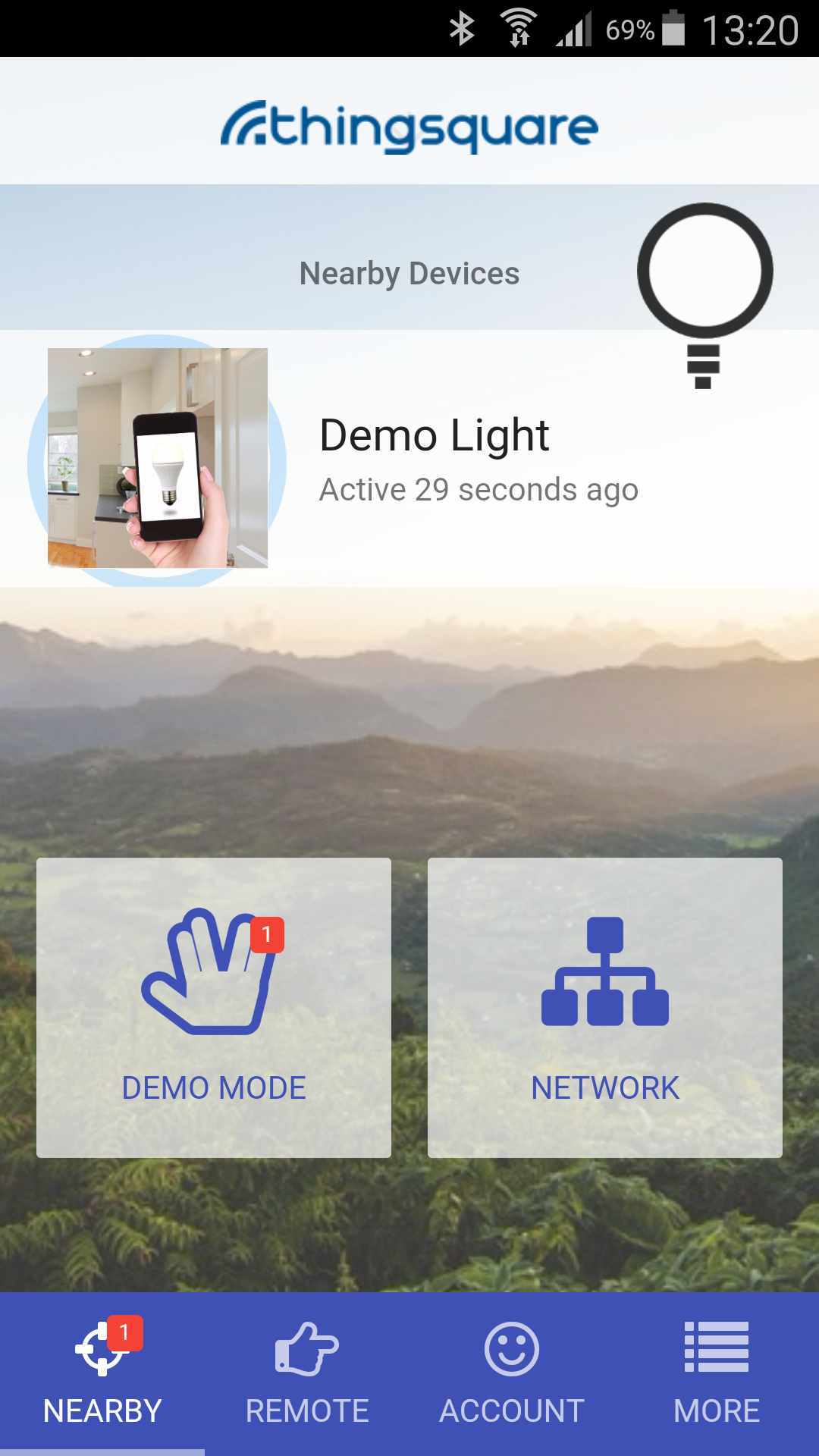 Then tap the color wheel to set the color of the virtual lamp.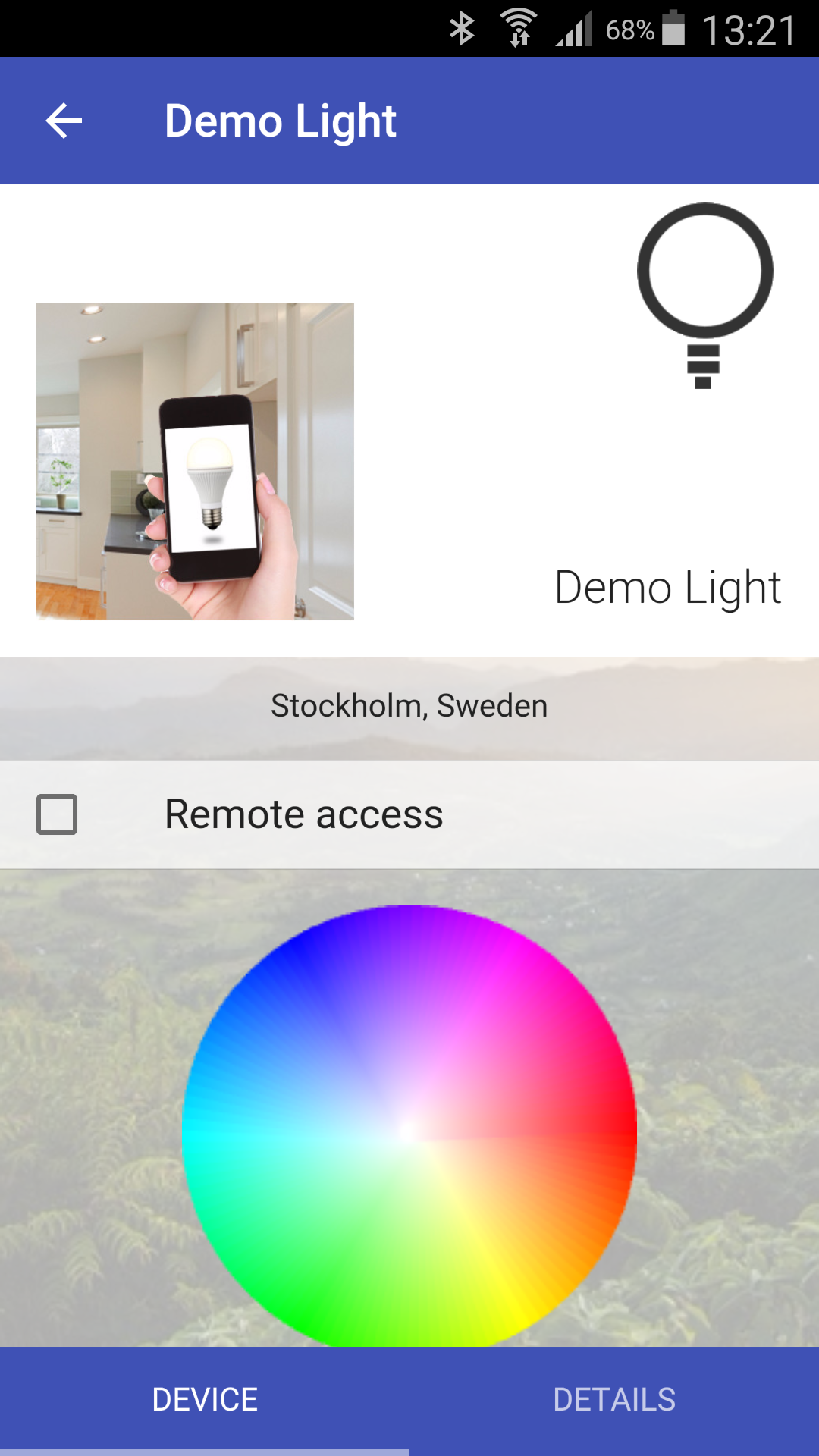 Tap the color wheel to set the color of the light …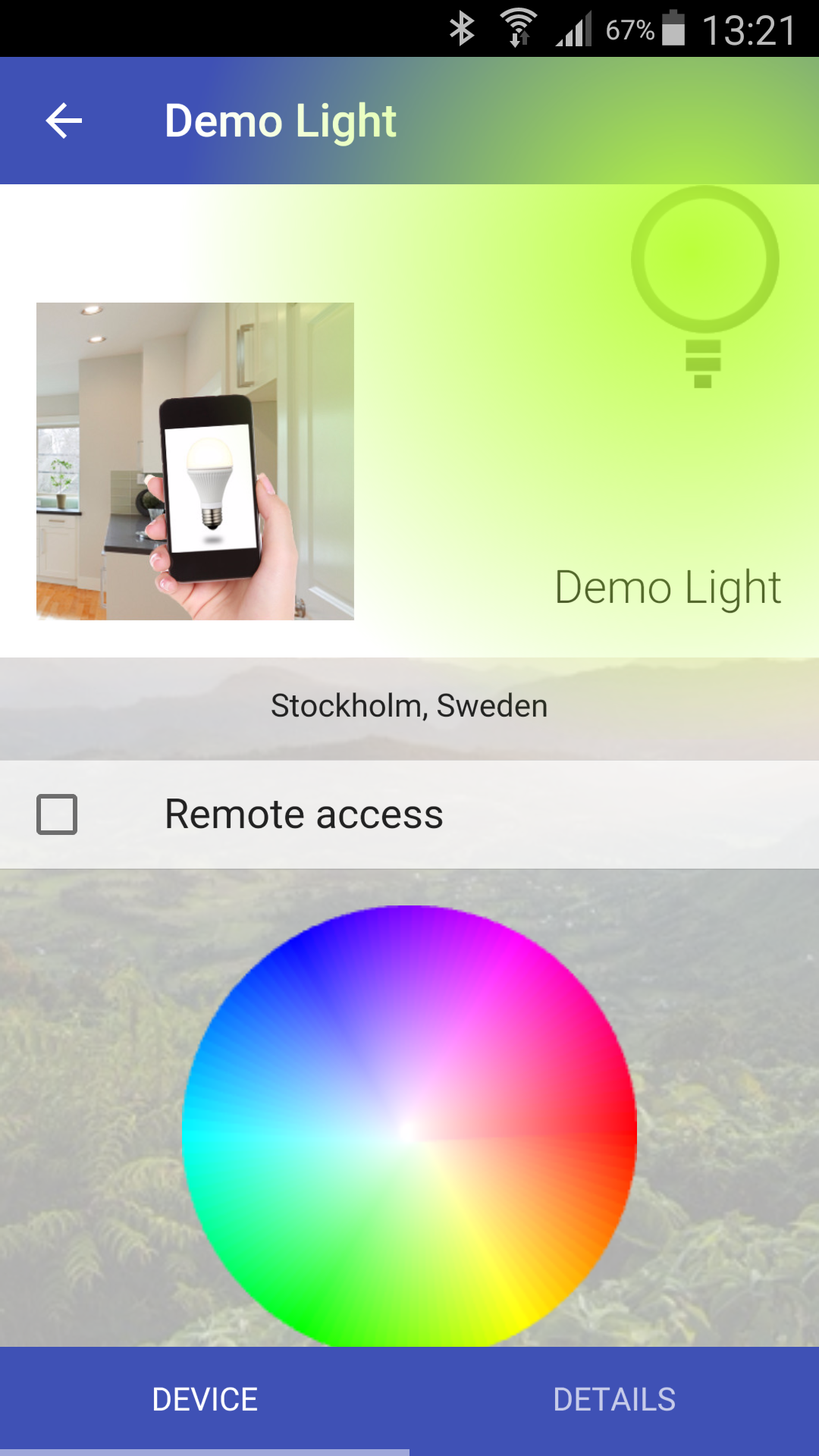 … and the light should change its color
Try out Remote Access
Remote access is a core feature of the Thingsquare system. It provides a secure and authenticated way to access any device, locally or remotely. Remote access can be enabled for the Demo Light, just like it can for any device in a Thingsquare system.
To enable remote access, simply tap the Remote access checkbox.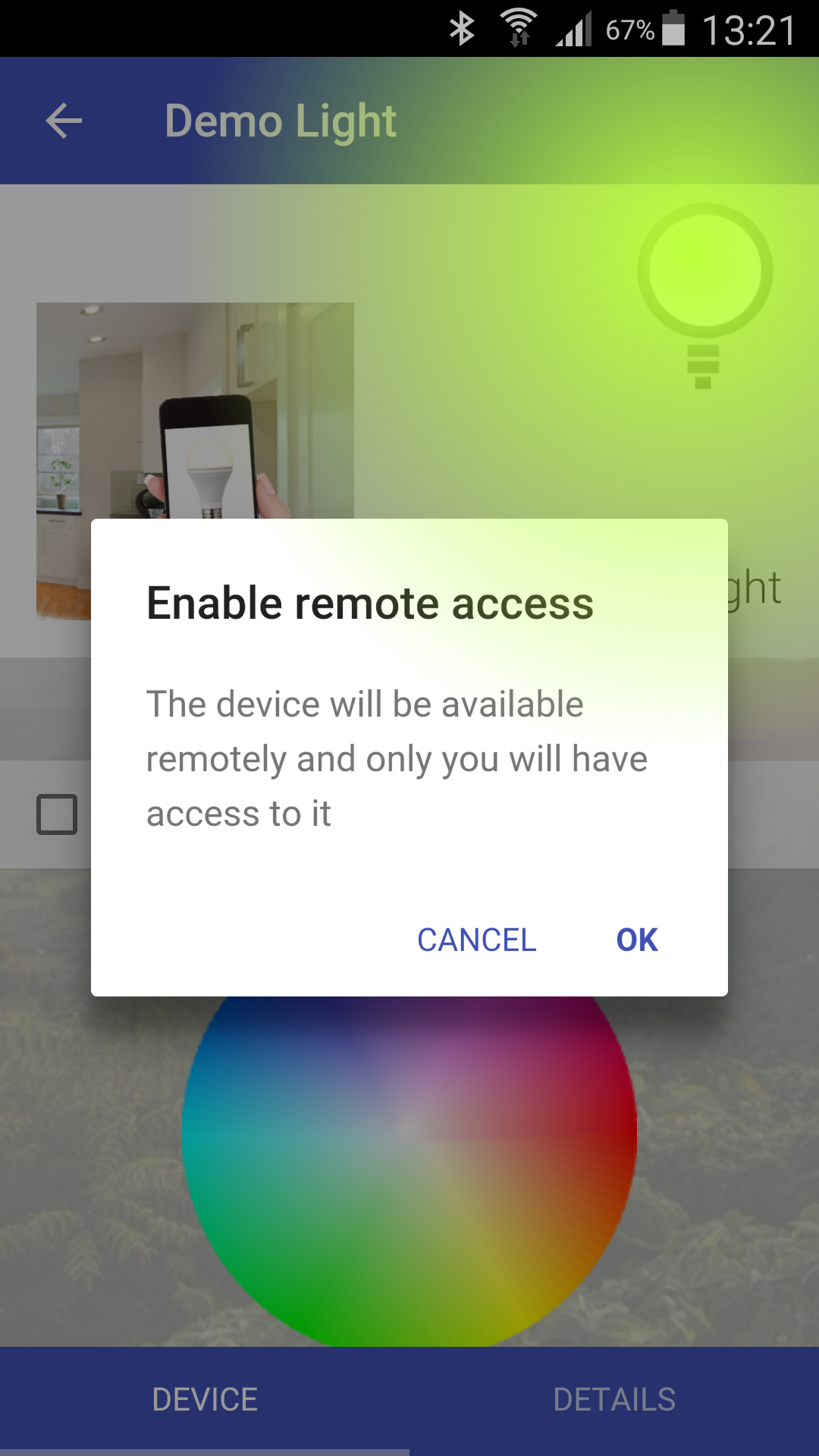 Enable remote access with the Remote access checkbox
If you are not yet logged in, you will be asked to log in, as remote access is enabled only for logged in users. If you do not have a user account, you will be asked to create one.
Once logged in, tap the Remote access checkbox to enable remote access. The Demo Light will now be available from anywhere – try logging in to another phone or our online demo app while keeping the phone open. You should now be able to change the color of the Demo Light remotely.
Inside the Thingsquare platform, the Demo Light that shows up on the smartphone screen is indistinguishable from a real hardware device. The only difference is that it is a virtual device, living on a smartphone screen, rather than a physical device built with hardware.
Next Step
Either get a Starter Kit to get going with the first hardware prototype of your connected product – or just get in touch with us to see how we can help you succeed!
Also check out the chat box below. If we are online, feel free to get a conversation started right now!