The Internet of Things is going strong. Here are 5 exciting IoT use cases we at Thingsquare have worked with in 2019:
All of these are built on top of the Thingsquare IoT platform. Because they are built with a stable platform, solution development is exceptionally quick.
Laser Shelves for Retail
In retail, empty shelves turn customers away. As much as 24% of Amazon's on-line revenue can be attributed to customers who couldn't purchase their items because a local retailer was out of stock. The IoT can improve this.
We developed a way to use wireless laser sensors to detect if a shelf is out of stock and immediately notify nearby staff. The staff then quickly can restock the missing items.
The solution consists of two user-visible parts:
Wireless battery-driven laser sensors, attached at the back of each shelf
A smartphone app, installed by store employees on their phones
The sensors send their measurements through a wireless IoT network that is created inside each store. The network covers the entire store and its range can be extended with range extenders.
The sensors are powered by a battery that lasts for approximately 2 years. Future versions of the system may use solar cells to effectively live forever.
Street Lighting
Street lights can account for up to 40% of a city's energy cost. Wireless street lighting control can cut that cost by half and remote monitoring can detect broken lamps instantaneously so that a repair team can be dispatched before dark. This is why cities around the world are investing billions of dollars into this market.
There are several benefits to smart street lighting:
Lower power consumption with smart dimming
Automatic failure detection
Automated dimming
Manual dimming, at specific events
Our street lighting system consists of two parts:
A wireless microcontroller on each lamp that controls the dimming
A wireless mesh network that connects all the lamps in one huge network
One or more access points that connect the wireless mesh to the backend controller
The system uses the Thingsquare IoT platform with sub-GHz networking. This is necessary to cover the large network of streets that street lighting systems span.
Hot Desk Tracking
Co-working spaces like WeWork use hot desks – where individuals can rent a single desk space without having to rent an entire office – to make more money from their office space, but the dynamic nature of hot desks makes it difficult to understand their usage. This leads both to potential over-spending on the amount of space allocated to hot desks, and potential loss of revenue.
In this project we track hot desk utilization with passive IR sensors under each desk that detect the presence of a person at that desk. This lets the office manager get instantaneous feedback on office planning decisions and the resulting hot desk utilization.
The solution consists of:
Wireless sensors, attached under each desk
A web site that collects the data from the sensors
A smartphone app used during installation of the sensors
The office provider installs the sensors at the appropriate locations and notes the location of each installed sensor with the installation app. The installation app uses Bluetooth beacons to ensure that the location of each sensor is correctly attributed on a map of the floor plan.
Each sensor detects the presence of a person at the desk at which it is installed and periodically reports this data, so that the presence data is available in real-time.
Customer Satisfaction Buttons
Retail stores traditionally have very limited ways to gain insights into how their customers feel like shopping in their stores. This makes shops miss opportunities to cater better for their customers, thus losing out on business opportunities.
TryLikes makes wireless smiley buttons that you can press to let stores know how you feel about them. If you have been to a McDonald's or a Media Markt in Amsterdam recently, you may already have seen them. The buttons are built on top of the Thingsquare IoT platform.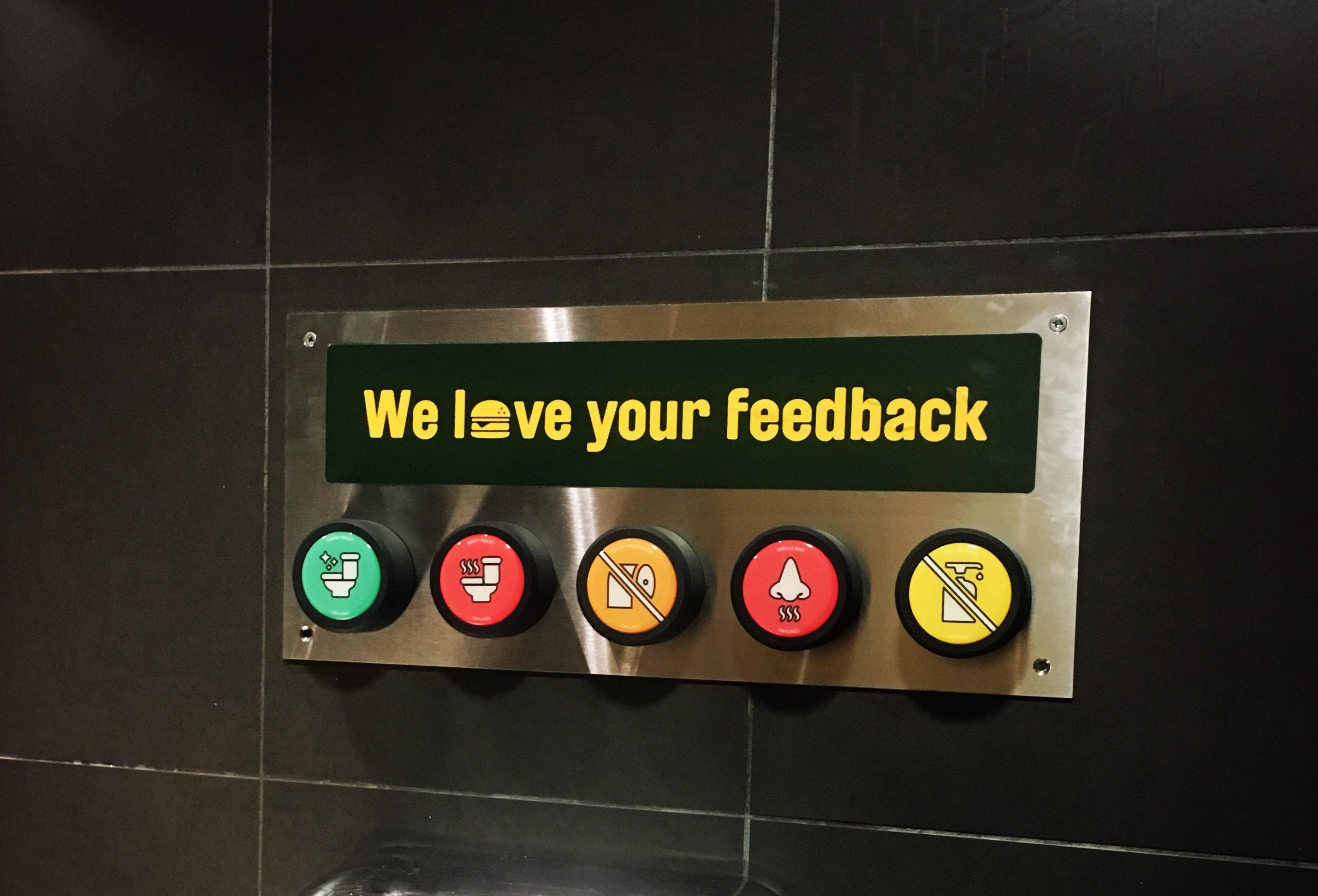 TryLikes buttons at McDonald's
The buttons allow stores to ask questions to their customers and get immediate feedback. This means that businesses can tailor their shop for what their customers really want, ultimately making better business – and more money.
The TryLikes buttons use a wireless chip in each button, running the Thingsquare wireless mesh. The buttons are securely connected to the Internet through a wireless access point. Each access point can support many hundreds of buttons per installation.
To easily extend the range of the wireless network, wireless repeaters can be installed throughout the store at which the buttons are installed. The system automatically finds the best repeaters to use, and no manual configuration is necessary.
Office Plants-as-a-Service
We spend 90% of our time indoors. Plants make the indoor environment feel better.
But plants need to be tended to. This has spurred a market for companies that rent out plants to offices. As a customer, you do not need to worry about watering and tending to the plants – this is done by plant care specialists, as part of the plants-as-a-service.
We have built a plants-as-a-service system that optimizes the efficiency of flower rental companies with a mobile app that guides the plant care specialists to the places that need tending to and wireless sensors that track the humidity in each flower pot, in each office installation. This makes it possible to offer flower rental services at a lower cost, to a larger market.
The system consists of:
A mobile app, for the plant care specialists as well as installation personnel
Wireless soil sensors, that keep track of the status of each plant
A backend database and scheduling system, that produces a daily schedule for each plant care specialist
The solution is built with the Thingsquare IoT stack, which means that the wireless sensors run with batteries and use an automatic wireless IPv6 mesh network.
The system produces a daily schedule for each plant care specialist. Because each flower is placed in different types of locations in terms of lighting and air humidity conditions, the schedule is a combination of regular trips and reactive trips.
Wireless sensors are inserted into each flower pot to keep track of the humidity level of the soil. These sensors detect if a plant needs to be watered or if it should be left alone. The system uses this to schedule the maintenance trips of the staff.
Conclusions
The Internet of Things is a way to bring data from the physical world into the virtual world. At Thingsquare, we are working with customers from around the world to achieve business-critical results with the IoT.
Get in touch with us today to hear how we can make your project come true!