Software updates are a fact of life for digital products, and you will need a way to efficiently update your products in the field.
The Thingsquare system has a unique feature that other IoT systems do not have: the ability to push a software update to entire networks of devices at the same time, without affecting the normal operation of the network. This makes it possible to get one update deployed simultaneously, even to very large numbers of devices.
Today we take a look at how this is done in practice.
---
The Thingsquare system allows you to remotely update devices, either individually, or on many devices at the same time. For large-scale mesh networks with hundreds or thousands devices, a network-wide update allows you to update the entire network at the same time, without network interruption.
This is how to update all devices in a network at the same time using the Thingsquare app.
Step 0: Log in
If you have not logged in to access your devices, open the Thingsquare app and log in with your username and password.
Step 1: Open the Updates view
Next, tap the More tab and tap the Updates button. This brings up a list of all devices in your networks.
Scroll down to the network you want to update.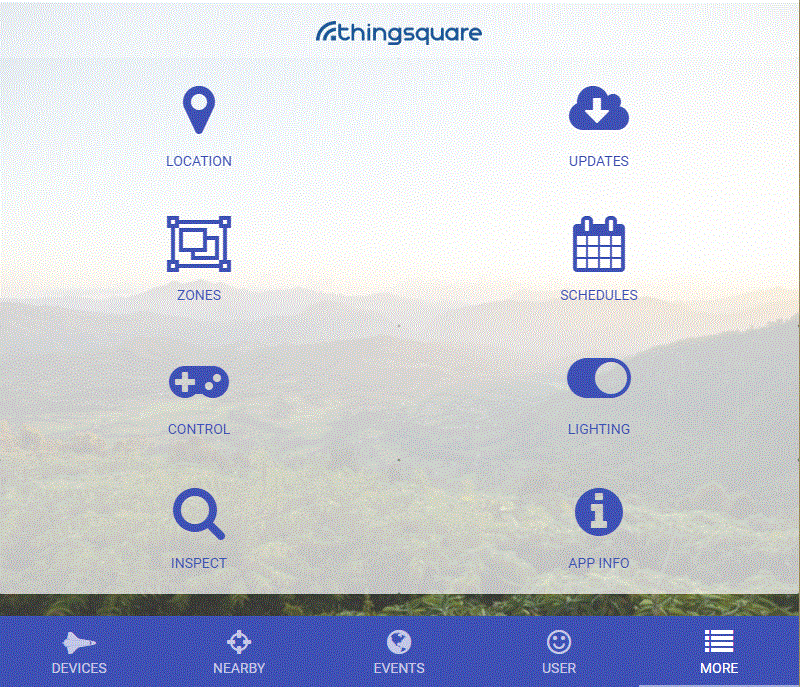 Open the Updates view in the Thingsquare app, and scroll down to your mesh.
Step 2: Select the Devices to be Updated
Select the network devices that are to be updated to the latest version by clicking the checkboxes. As a shortcut, you may also click the top checkbox to select all devices.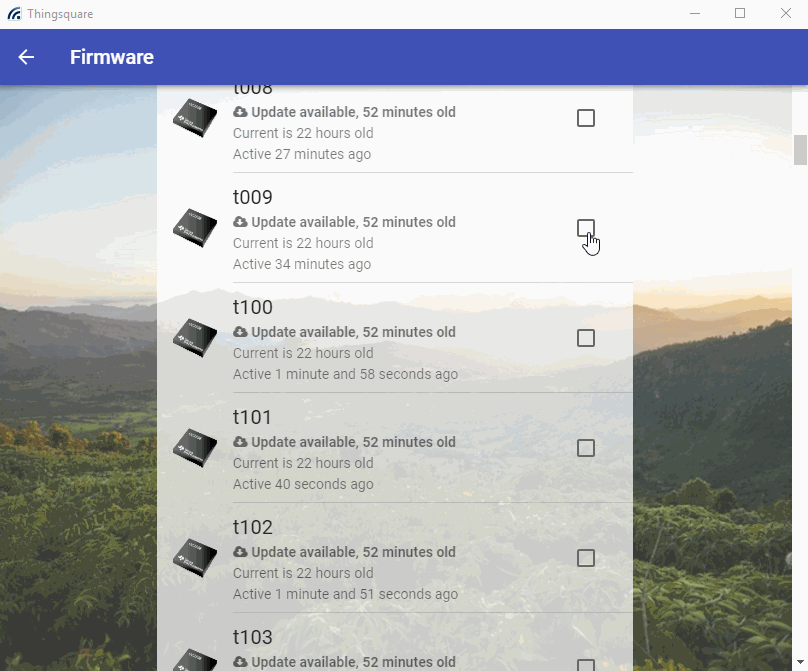 Select the devices to be updated.
Step 3: Start the Network Update
Scroll down to the bottom of the page, and click Start Network Update. Before the update can be started, the system will prepare each device to make it ready to accept the new update. This step takes a couple of seconds per device. When the network update starts, the gateway device will display the update progress.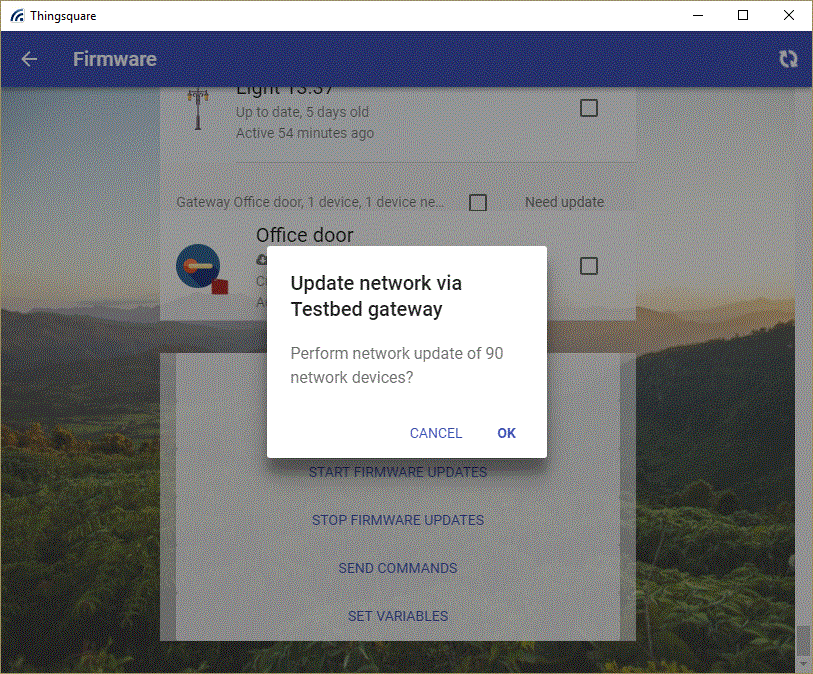 Start the network update.
Step 4: Sit Back and Relax!
Usually, a network update takes a few hours, so sit back and relax, no need to keep the app open during the update.
A network update takes longer to complete than an update of one individual device. But with large networks, this still is faster than individually updating each device, because hundreds or thousands can be updated simultaneously.
Once the update is finished, all devices will be up and running with the latest version of the system!
The Details: Preparing an Update
The steps above show how to trigger a network-wide update, but does not say how to prepare the firmware file that is sent out to all devices. How to prepare such a file is covered in this guide.